Reception
Welcome to Reception
At Brambles Primary Academy, we are READY, RESPECTFUL and SAFE.
Welcome to Reception!
On this page you'll find out all about the exciting things we'll be getting up to in Reception, what learning looks like in Reception and the topics we will be learning about.
We will also give you lots of ideas and information in regards to what you can do at home to help support your child's learning.
Staff
Miss. Machon Mrs. Bowker
Maple Class Teacher Hazel Class Teacher
Mrs. Foster-McBride Mr. Shannon Miss. Clarke Mrs Juett
ETA Apprentice ETA Apprentice ETA HLTA
Important Information
P.E will take place every Tuesday and Friday.
Please click here for details of PE kit and school uniform
Please ensure P.E kits remain in school.
Reception Timetable
Home Learning
Every Monday we will send home a 'Shared Reader' book for parents and children to enjoy together. Initially, these will be predominantly read together and children will be able to talk about the pictures and make predictions about the text. As children become more confident with their reading they will be able to read the book with much more independence, however they may require support from parents in some instances. This book will not only develop children's reading skills but their love of reading too.
Every Friday, we will be sending home or adding Maths home learning to Class Dojo. We will also be sending home a 'Little Wandle' Reading Practice book, which the children will have read 3 times throughout the week in school. These books MUST be returned every Monday.
Each time you read with your child please ensure you sign, date, comment in the yellow reading diary.
Each half term, children will be set a range of home learning activities which can be completed over the holiday period.
Communication
Class Dojo is a great way to keep in touch with what's happening at school and to contact members of the Reception Team.
Key Dates
Spring term 2
Monday 20th February 2023 - Pupils return to school
Tuesday 21st February 2023 - Pancake Day
Friday 24th February 2023 - Non-Uniform Day to help raise money for the Turkey-Syria earthquakes.
Thursday 2nd March 2023 - World Book Day
Friday 31st March 2023 - Last day of Spring term 2
Saturday 1st April - Sunday 16th April 2023 - Easter holidays
Monday 17th April - Children return to school
This half term we will be learning...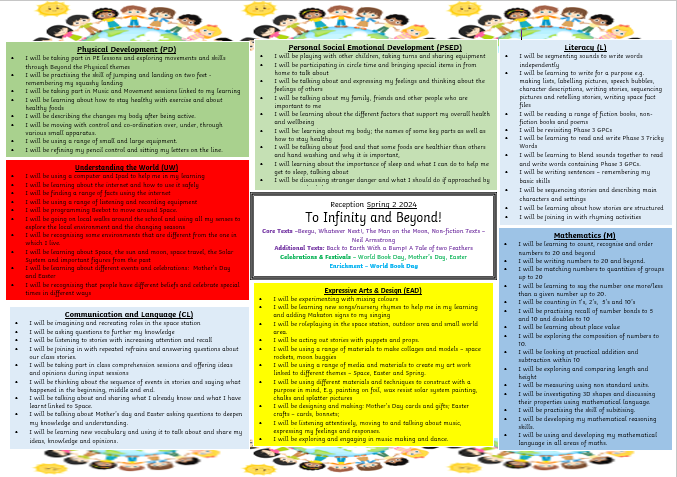 Vocabulary list
Below is a vocabulary list of words that the children will be introduced to and using linked to our different topics this half term.
Phonics
In Reception, children begin learning phase 3 sounds (digraphs and trigraphs) and tricky words in the Spring term. Each sound has a corresponding picture and mnemonic to aid them to remember the sound on sight as well as how to form each letter.
The order the children learn sounds and their corresponding pictures are as follows:
Spring 2 - Children will be taught:
Tricky Words
Below is the order for the phase 3 tricky words - No new tricky words will be taught in Spring - consolidation of Phase 2 and 3 tricky words.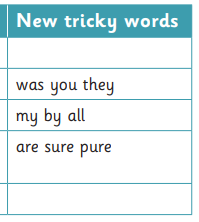 Core Texts
Beegu by Alexis Deacon
https://www.youtube.com/watch?v=OaX_zGZO0Y8
A Man on the Moon (A Day in the Life of Bob) by Simon Bartram
https://www.youtube.com/watch?v=Rt5zQ1UO6rE
Whatever Next! by Jill Murphy
https://www.youtube.com/watch?v=eVHlBD9LNJM
Links to try at home
| | | |
| --- | --- | --- |
| Little Wandle Letters and Sounds | Reading - E-Library | Phonics Games |
| Phonics Games | Nursery Rhymes | Go Noodle |
| Maths Games | Maths Games | Go Noodle |
Twitter Feed